Nainital
Nainital , the lake district of India, located in the Himalayan belt amongst the Kumaon Hills is a splendid tourist spot in the northern state of Uttarakhand. Nainital is referred to as the lake of three sages or the Tri Rishi Sarovar as mentioned in the Skand Purana. It is said that the three sages Atri, Pulastya and Pulaha stopped over here at Nainital on their pilgrimage to quench their thirst. Finding no water, they dug a hole here and tranderred some water here from the sacred lake Mansarovar.Another legend says that the left eye or Nain of Lord Shiva's wife Sati fell in this center and formed an emerald eye shaped lake , and thus emerged the city of Nainital.Nainital is best known by the famous landslide of 1880 which leveled out the entire city.

How to reach here:

By Air: Pant Nagar Airport is the nearest airport which is just 71 Kms away.

By Rail: Kathgodam railway station is the nearest station which is 35 Kms away from Nainital.

Best time to visit: March to June

Languages spoken: Hindi, Kumaoni and English

Must eat: Pua, Spinach Kappa, Shyali and Khatai

Famous Restaurants: Sakley's, Udupiwala, Embassy, Shiva and Manchan


Places you must visit:

Naina Devi Temple was originally constructed in the 15th century during the Kushan reign. the central presiding deity being Mata Naina Devi is represented by two almond shaped eyes flanked with Mata Kali and Lord Ganesha on either side. this temple is also known as one of the 51 Shaktipeeths.It is believed that Lord shiva's wife Sati's eye fell of at this very site where the temple is being built.

Naini Lake is a natural make of mother earth set midst of seven mountains that surround this water pool. This lake is surrounded by green hills , the beauty of which is breathtaking and should be captured as a photographic memory forever.







Naina Peak or China peak is located at an altitude of 2611 meters and is the highest peak of the town. This peak opens up to a beautiful panoramic view of the snow laden Himalayas in the west to the Api and Nari peaks in the east. the excellent view to the entire Nainital city can be obtained from this peak.


Bhimtal Lake is a beautiful lake which has an island at the center of the lake. It is a perennial lake which not only supports the large number of aquatic life but is a winter stopover for Trans Himalayan birds.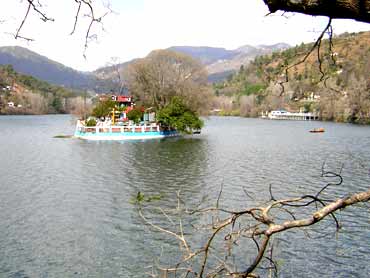 Nainital Zoo or Govind Vallabh Pant zoo is situated at an altitude of 2100 meters and spread over a vast area. It is home to a variety of animals namely Black Himalayan Bear, monkeys, Siberian tiger, Palm Civet cat, Rose ringed Parakeet, Silver Pheasands, Hill Fox and barking Deer.


Astronomical Observatory was established in the year 1955. It was established with a view of conducting astrophysical research in stellar, solar and theoretical streams.With prior permission, visitors can get access to the observatory and experience the pleasure of viewing celestial objects through the telescope.


Governor's House or Raj Bhavan was built in 1899 and designed by F. W stevens in the traditional Victorian Gothic style architecture. It was the summer residence of the Governor of the Northwest Province and now converted into the official guest house of the Governor of Uttarakhand and its employees. It is a tall two storied building having 113 rooms and bear resemblance to the Buckingham Palace.


Land's end gives a panoramic view of the neighboring hills and green valleys surrounding Nainital. The main attraction of this place is the splendid view of the Khurpatal lake.True to it's name, the Land's end is a spot that marks the dead end.


Tiffin Top also known as Dorothy's seat is a terrace hill top atop of the Ayarpatta hill, which is at an height of 7250 ft above sea level. Dorothy's seat is a stonework bench built in memory of dorothy Kellet , an English artist. This spot was built in memory of her by her husband and well wishers after he died in a plane crash.


Eco Cave Gardens is a memorable spot to introduce your child to an Eco friendly life. Children can make this an informative trip learning all about Eco-sphere and taking a peek into an adventurous life. this garden has six caves and a musical fountain.



Aurobindo Ashram is nestled cozily midst the green hills of the Kumaon valley.One can learn the art of perseverance and get a deep sense of satisfaction and peace post yoga and meditation activities in the ashram.





Jim Corbett National Park is the oldest National park in India. The park is named after the hunter and conservationist Jinm Corbett who played a key role to establish it in 1921 as Haily national Park. It is the protected area for the endangered Bengal Tiger of India. this national park is a heaven for adventure seekers and wildlife lovers. A total of 488 types of plant species have been recorded in the park. Over 585 species of resident and migratory birds have been categorized in this park.