Varanasi
Varanasi also called as Banaras or Kashi is a city situated on the banks of River Ganga in the state of Uttar Pradesh.It is one of the oldest living cities in the world. Mark Twain, the English author and literature who was fascinated by the legend and sanctity of Varanasi wrote: 'Varanasi is older than history,older than tradition, older even than legend and looks twice as old as all of them put together.' Varanasi is the ultimate pilgrimage spot for Hindus for all ages.Varanasi is the abode of Lord Shiva and Parvati and the Ganga in this city is believed to have the power to wash away the sins of mortals.This city is the center of learning and civilization for more than 3000 years.Knowledge, philosophy, culture, devotion to Gods, Indian arts and crafts have all flourished here for centuries.Ayurveda is said to be originated in Varanasi. It is also a pilgrimage for Jains, as it is believed to be the birthplace of Parshvanath, the twenty-third Tirthankar.


How to reach here:

By Air: Lal Bahadur Shastri International Airport also known as Babatpur Airport caters both International and Domestic passengers.

By Rail: Varanasi Junction also known as Varanasi Cantt. railway station is the major rail and connects to all the major parts of India.


Best time to visit: October to April

Languages Spoken: Hindi, Sanskrit and English

Must eat: Dum Aloo, Pani puri, Aloo Chaat and Paan.

Famous Restaurants: Keshari, Sindhi, Ghat Apsara, El Parador

Places you must visit:

Kashi Vishwanath Temple is one of the most important place of worship in the Hindu religion.A visit to this temple and a bath in the river Ganges is one of many methods believe to lead one on a path to Mokhsha (liberation).This temple was built in 490 A.D and has been mentioned in Puranas in Kashi Kanda of Skanda Puran.This temple had been demolished by several Mughal Kings like Muhammad Ghori, Qutb-ud-Di Aibak, Firuz Shah Tughlaq and last in 1669 by Aurangzeb. He also constructed a Gyanvapi Mosque near it which still exists alongside the temple.After every demolition, the temple was reconstructed again by Hindu Kings who followed them.The current temple was built by Ahilya Bai Holkar, Queen of Malwa in 1780.The temple spire and dome are plated with 1000 g of gold.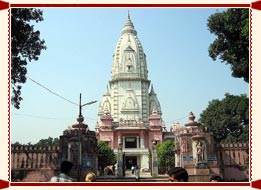 Kaal Bhairav Temple is the temple of Kaal Bhairav, a dreadful form of Lord Shiva symbolizing death.It is widely known as Kotwal or the police chief of Kashi.Only the silver face of Kaal Bhairava , garlanded with flowers is visible through the doorway of inner sanctum.The rest of Bhairava's image, said to be pot bellied , seated upon a dog and holding a trident is hidden behind a cloth drapery.It is a tradition to buy black threads, keep it in the shrine and then wear it on your wrist, arm or around the neck as a protection against evil forces.




Nepali Temple is situated on Lalitha ghat and is made in Nepali style.The temple is devoted to Lord Shiva and it is assumed that the lingam there replicates the Pasupatisvara of Katmandu.This temple has beautiful wood carvings.




Bharat Mata Temple is the only temple dedicated to Mother India. It was built by Babu Shiv Prasad Gupt and inaugurated by Mahatma Gandhi in 1936. The statue of Bharat mata is build in marble and is a model of undivided India, depicting the mountains, plains and oceans.




Durga Temple or the monkey temple is one of the most important temple in Varanasi dedicated to Goddess Durga.This temple was built in 18th century in Nagara style by a Bengali Maharani .It is stained with ochre and has a multi-tiered spire.The temple is situated on a rectangular tank, called the Durga Kund.According to the legends, the present statue of Goddess Durga was not made by man but appeared on its own in the temple.It is called monkey temple because of the presence of large number of monkeys.




Sankat Mochan Temple is dedicated to Lord Hanuman. Sankat Mochan means one who helps in removing the sufferings.This temple was founded by Tulsidas, the author of famous Hindu epic Ramcharitmanas. According to Hindu Mythology, one who visits this temple regularly, his wishes get fulfilled.




Tulsi Manas Temple is dedicated to Lord Rama.It is believed to be built at the same place where Tulsidas wrote the famous epic ,Ramcharitmanas.The walls of the temple are engraved with verses and scenes from Ramcharitmanas, the Hindi version of Ramayana.The temple has been made more charming by the magnificent landscaping around it.




New Vishwanath Temple is located in the premises of Banaras Hindu University. It is also called the Birla temple as the famous Industrialist family of India, the Birlas constructed it.The temple is dedicated to Lord Shiva and is the original replica of the Vishwanath temple.The temple is constructed in white marbles and was planned by Madan Mohan Malviya, the founder of the Banaras Hindu University.




Alamgir Mosque is also called Beni Madhav Ka Darera located at Panchganga ghat was originally established by Aurangzeb. This mosque is built on a site of Vishnu temple (Bindu Madhav temple). The lower part of the mosque still features a Hindu temple.The exquisite design of this mosque indicates the rich artwork f ancient India.




Gyanvapi Mosque is a mosque built by Aurangzeb after he ordered demolition of the Vishwanath temple in 1669. Materials from the destroyed temple was reused by Aurangzeb while building this mosque.The old temple wall was also incorporated as part of the walls of the mosque.The Gyanvapi- the well of Knowledge- is situated between the temple and the mosque.The well is believed by the Hindus to be the location where the sacred Shiv linga icon of the temple was hidden.




Man Mandir Observatory was originally Man Mahal Palace built by legendary Raja Man Singh, the Man Mandir observatory was added to the Man Mahal by Sawai Jai Singh II in 1730's.Till date the astronomical instruments have been well preserved and provide an astonishing insight into how much our ancestors knew even centuries ago.Exquisite painted ceilings and the palatial windows enhances the beauty of the Palace.




Banaras Hindu University (BHU) is an internationally reputed university founded by the great Nationalist leader, Pandit Madan Mohan Malaviya in 1916.Dr. Annie Besant also played an important role in the formation of BHU.The BHU has produced many great freedom fighters and Nation builders.It is a huge campus of 1300 acres with well maintained roads and luscious greenery.It has a temple, an airstrip and beautiful buildings which are architectural delight.The campus has a Bharat Kala Bhavan, A Medical college, an Engineering college and a 97 bedded Sir Sunder Lal Hospital.The University also provides a well developed sports infrastructure, large playgrounds, a big auditorium , a flying club and many other utilities like Printing Press, Publishing Cell, Fruit Preservation center, Security etc.




Bharat Kala Bhavan is an art and architecture museum and has a vast collection of paintings, Hindu and Buddhist sculptures and other materials of architectural importance.It was established in year 1920 A.D.any images in the Bharat Kala Bhavan confirms the existence of the Krishna cult in Kashi in the 15th and 16th century.It also has great collection of miniature paintings from the courts of Mughals and other Kingdoms.There are various galleries like Mahamana Malviya Gallery,Nicholas Roerich Gallery, Chhavi (Painting Gallery), Sculpture Gallery, Nidhi(Treasures ) Gallery, Archaeological Gallery, Decorative art Gallery and Banaras through ages Gallery.




Ramnagar Fort is situated on the opposite bank of river Ganga. It is the ancestral home of the Maharajas of Banaras. Maharaja Balwant Singh built this for palace in the 18th century.The fort has a temple dedicated to Ved Vyasa, who wrote Mahabharat, the great epic and a museum.Legends say that Ved Vyasa stayed here for a brief period.The museum displays the royal collections which includes Vintage care, royal palkies, armoury of swords and old guns, ivory work and antique clocks.Inside the giant walls of this fort, there is a big clock which not only displays year,month,week and day but also astronomical facts about the sun, moon and constellations of star.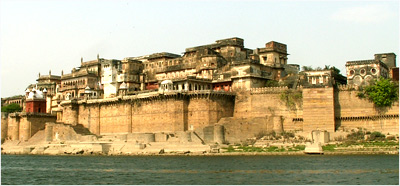 Ghats of Ganga are the holiest places of Varanasi.They are the steps leading down to the river Ganga. The pilgrims take these steps to go down to the Ganga and take a dip in it. It is believed that people are cleansed physically, mentally and spiritually at Ganga Ghats.There are more than 100 ghats alongside Ganga in Varanasi.Some of the Prominent and popular Ghats are:

Panchganga Ghat- the meeting of five rivers (The Ganga, The Saraswati, The Dhupapapa, The Yamuna and The Kirna)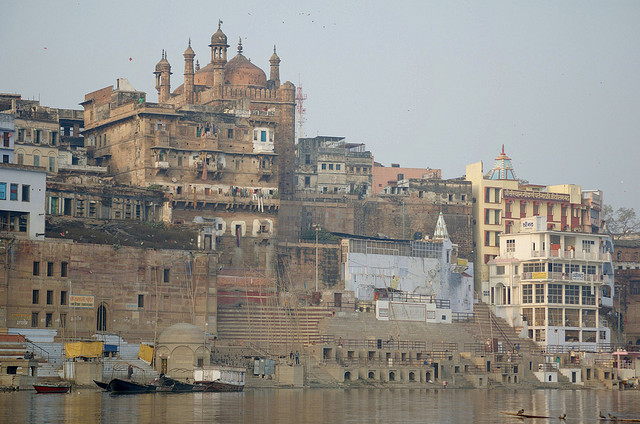 Manikarnika Ghat- main cremation ghat.It is considered sacred and person cremated here receive Moksha(liberation).When Lord Shiva was bathing a Mani(Jewel) from his earring fell into the kund, hence the name Manikarnika(Mani: Jewel Karnika: Of the ear).



Dasaswamedh Ghat- It is one of the most important ghat of Varanasi. Dasaswamedh means the ghat of ten sacrificed horses.According to legends, ten horses were sacrificed by Lord Brahma to allow Lord Shiva to return from a period of banishment.Although it is the oldest ghat ,dating back to thousands of years, the ghat has remained unspoiled and clean.



Rana Ghat- It was built in 1670 A.D by an Udaipur ruler.An ancient temple of Lord Ganesha, the Vakratunda Vinayak temple is placed at this Ghat.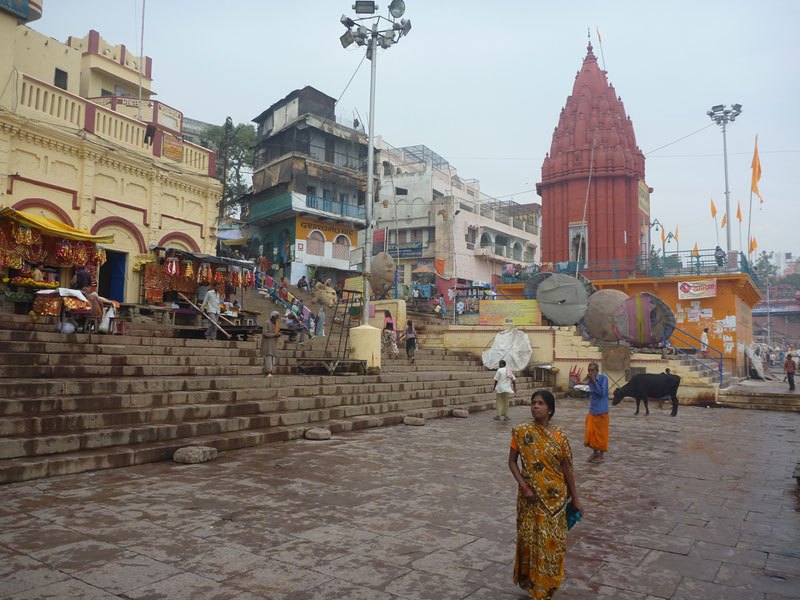 Narad Ghat- Formerly known as Kuvai Ghat was built by Dattatreya Swami, a monastery chief, in 1788.This ghat is related to Sage Narada, a divine musician and sage.The temple here enshrines the images of Naradeshvara, Atrisvara, Vasukisvara and Dattatreyasvara.



Harishchandra Ghat- It is one of the oldest ghats in Varanasi.This ghat is named after the legendary king Harish Chandra , who once worked at the cremation ground here fro the perseverance of truth and charity.It is believed that God rewarded him for his resolve,charity and truthfulness and restored his lost throne and his dead son to him.Adjoining the ghat are numerous temples containing the idols of Harishchandreshwara, Rohiteshwara, Adi Manikkarnikeshwara and Vrddha Kedara.



Hanuman Ghat- It was earlier known as Rameswaram ghat is famed as Juna Akhara in Varanasi.Legends say that this ghat was built by Lord Ram himself and hence this ghat is dedicated to his most favorite disciple Hanuman.This ghat is an impressive attraction among the wrestlers and bodybuilders as Lord Hanuman is a synonym of strength.A renowned Vaishnava saint, Vallabhacharya , taught his disciples magnificent stories and the glories of Lord Krishna at this place.A temple dedicated to Lord Hanuman and the other temple founded by Saint poet Tulsi Das are the main attractions of this ghat.



Shivala Ghat- It is a ghat built by King Balwant Singh. It is a religiously important ghat with a presiding deity of Lord shiva. An attractive shiva temple and Bramhendra maath, a spiritual center are two important attractions of the ghat.There is also a spectacular royal mansion built in 19th century built by Nepal king Sanjay Vikram shah.



Tulsi Ghat- It was known as Lolark ghat.In 1941, this ghat was cemented by an Industrialist Baldeo Das Birla.This ghat is named after a famous Hindu poet of the 16th century, Tulsidas who composed the great Indian epic Ramacharitmanas.Many of the relics of Tulsidas are preserved at this Ghat.The house in which Tulsidas died is preserved and his samadhi, wooden clogs, pillow and the idol of Hanuman ,which he worshiped, are still intact here.This ghat is associated with number of important activities such as bath at Lolark kund (to be blessed with sons and their long life) and the sacred bath to get rid of Leprosy.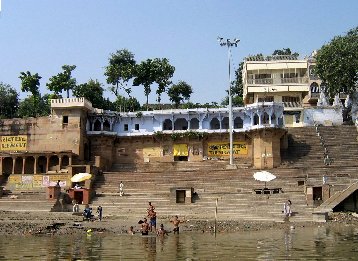 Assi Ghat- It is located at the confluence of River Ganga and Assi river.According to the legends, Goddess Durga has thrown her sword after slaying the demon Shumbh-Nishumbh. The place where the sword had fallen, resulted in a big stream , known as Assi river where the ghat is located.In Kashi Khand, Assi ghat is referred to as Assi 'Saimbeda Tirtha' and according to it, one gets punya of all the Tirthas (religious places) by taking a dip here.